This post may contain affiliate links. If you buy thru these links, we may earn a commission at no additional cost to you.
---
Who knew ketchup could be so much fun?!
Following is a list of all the virtues of ketchup, including its many varieties, little-known facts, the world's largest, and lots of fun things you can do with ketchup.
Yep, everything you want to know about ketchup… and more!
Enjoy!
Catsup vs Ketchup
First of all, is it ketchup or catsup? What's the difference?
Variations such as catsup, catchup, katsup, and others abounded alongside 'ketchup'. However, when the Reagan administration briefly decided to count ketchup as a vegetable in 1981, Del Monte Catsup found itself out of the loop due to their spelling-they permanently changed to 'ketchup', but by then public outcry had forced a reversal of administration policy. Ever since, though, you'll be hard-pressed to find a bottle from any manufacturer labeled anything other than 'ketchup'. Source
Now, what about the difference between "fancy ketchup" and "tomato ketchup"?
Here's a fun little idea with food writers (edible markers).
Where Is The World's Largest Ketchup Bottle?
The world's largest ketchup bottle is found at Heinz Field in Pittsburgh, Pennsylvania.
The stadium's naming rights were acquired by the H. J. Heinz Company, and thus it is affectionately called "The Big Ketchup Bottle" by ESPN announcer Chris Berman and "The Mustard Palace" (a nod to its yellow seats) by many Pittsburgh-area sportscasters. The rights were acquired for $57 million, partially in a nod to the "57 varieties" claimed on its ketchup bottles. The main scoreboard at the south end of the stadium is flanked by neon red Heinz ketchup bottles, which rotate and appear to pour out ketchup when the Steelers enter the red zone during games. Source
The world's largest catsup bottle is in Collinsville, Illinois.
The world's largest catsup bottle even has an official website and fan club!
Ketchup Goes Green!
Heinz Organic Ketchup has been around since 2002. They were the first to come out with a nationally branded organic ketchup.
Heinz Organic Ketchup, certified as organic according to the United States Department of Agriculture standards, is made from vine-ripened tomatoes that are 100 percent certified organic, as well as other certified organic and natural ingredients such as organic sugar, spices and onion powder.
Okay, green is keen, but what do you think about purple ketchup???
Fun With Ketchup
Here are some people who think outside the box… They go above and beyond ketchup's "typical" uses and show us that ketchup can be lots of fun, too!
1. Ketchup Art
Don't miss the top 10. And take a few moments to upload your own ketchup art!
2. Speed Painting With Ketchup & French Fries
Who knew you could do so much with so little?… Check out the video:
3. Heinz Personalized Ketchup Labels
Yep, you can get your very own full-size bottles of Heinz ketchup with "official" labels from the factory that you personalize to say whatever you want! Think: weddings, 4th of July, graduation parties, family reunions, tailgating parties, and more! (Need some ideas?… check out what some celebrities had imprinted on Heinz ketchup labels.)
On a related note, here's a fun Heinz Ketchup Prank!
Get A Craving For Ketchup & Fries.. A Lot?
If so, consider snack fries that are ketchup-flavored!
Fun Yum Ketchup Fries give you all the great taste without the mess!
The best part: You can always have fries with ketchup on hand for your next craving.
Plus, they have a very nice ketchup smell.
Little-Known Facts About Ketchup
Historically, ketchup has been America's most widely used condiment — now found in 97% of all kitchens — a showing matched only by salt, pepper, sugar, and most recently, salsa.
Ketchup was sold in the 1830s as medicine.
Heinz sells more than 50% of the ketchup sold in the U.S.
Each person eats about 3 bottles of ketchup a year.
Ketchup protects against cancer.
Lycopene is a powerful antioxidant abundant in red tomatoes and processed tomato products that may help to prevent prostate cancer and some other forms of cancer, heart disease, and other serious diseases.
Sources: FactoidCentral.com, FoodReference.com, GlobalGourmet.com, Lycopene.org, TomatoFest.com
What's Your Ketchup Personality?
They say, if you want to learn the more about a person, look no further than how they pour their ketchup. Psychologist Donna Dawson has identified 7 key types:
Those who dunk into a well of ketchup are methodical and trustworthy. But they may also be control freaks who are afraid of change.
Ambitious people splodge their sauce in the middle of their food.
Creative types squirt and swirl their sauce in thin lines. But deep down they are impatient and do not tolerate fools or time wasting.
Those who dot their ketchup are friendly, but live conservatively and dream of adventure holidays.
Smotherers are the life and soul of the party.
Artists who draw faces and words on their food have an easy-going approach to life.
And gourmets who keep ketchup in a cruet appear charming, but deep down may be snobbish social charmers.
Ketchup Goes Great With…
white rice
fried eggs
scrambled eggs
chicken
…those are just some of the unusual things that Jim and I put ketchup on.
Apparently, Richard Nixon liked ketchup on his cottage cheese.
What about you??? What do you like to put ketchup on?…
Fun with Flickr photos…
Play the ketchup game with pictures (a memory game similar to "Concentration")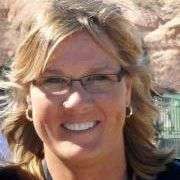 I love my kitchen… and I like to cook. But my #1 requirement is that recipes have fewer than 7 ingredients (or arrive on my doorstep via a food delivery service). My absolute favorite thing about being in the kitchen is trying out new gadgets, cookware, and storage containers! I'm SUPER organized in the kitchen (and everywhere else) and I have every gadget I could possibly need neatly and compactly tucked away until I need it. I share only the simplest recipes (which is great for people who don't like to cook), along with time-saving food tips and cooking tricks (that will save you time and money). When I'm not cooking, cleaning, or organizing my kitchen… you can find me at the corner of Good News & Fun Times as publisher of The Fun Times Guide (32 fun & helpful websites).