This post may contain affiliate links. If you buy thru these links, we may earn a commission at no additional cost to you.
---
Following is an update on my search for the perfect recipe organizer…
I've actually tried quite a few different recipe programs. For example, MealMaster and MasterCook were my longtime favorites — and they served me well (in a very basic sense) for many many years. But it was time to start looking for a recipe organizer that fit my needs better.
After trying it free for 30 days, then buying the Big Oven software ($29.95) and using the full program for a short time, I realized that BigOven wasn't exactly what I was looking for either. (See the "update" at the end of that article and my comments.)
Yes, Big Oven is a fairly sophisticated program, and there's a lot that it can do. But the biggest thing that I, personally, wanted in a recipe program was the ability to access (and edit) all of my recipes from any computer (or my phone) at any time.
For example:
On my laptop in the kitchen — when I'm cooking at home
On my desktop upstairs — when I'm importing and sharing recipes
On my mom's computer in a different state — when I decide on a whim I want to cook up something special for her when I'm visiting
On my computer at work (back when I used to work outside the home) — when I simply wanted to browse all of my recipes and find an interesting one I hadn't fixed in awhile
On my phone — no matter where I am
You get the idea… I never know when or where I may want to access my recipes. So the #1 priority for me was to be able to view (and edit) my recipes on the fly, no matter where I happen to be.
After exploring all of my options and not feeling satisfied with any of the professional recipe programs created specifically for organizing recipes, I decided to think outside the box a bit.
I moved all of my recipes, one by one, from Big Oven into Google Docs (aka Google Drive) — as seen here:
While I hadn't heard of many people using Google Docs for organizing recipes before, I knew that Google Docs would serve my purpose well — from a practical standpoint. Still, I figured it was going to be a rather "archaic" way to store and view all of my recipes.
As it turns out, Google Docs is a fairly sophisticated way to organize recipes!
Google Docs Is So Quick And Easy
What I really like about using Google Docs for recipes is the ability to quickly copy and paste from another website (or email) specific recipes that I'd like to try:
With Google Docs, you simply copy & paste the part of a page that you're interested in (either a recipe stored in another program like Big Oven, or a web page online for example), and you get everything in one click:
recipe title
ingredients
cooking directions
nutrition info
photos
even comments others have posted to this recipe — if I'm interested in those
That's right, little or no typing is required to copy recipes into Google Docs! You simply choose "Select All – Copy" to get every single thing on the page. Or, you select only the parts you're most interested in by dragging your mouse and then typing CTL+C (to copy) and CTL+V (to paste).
With other recipe organizers, you have to enter most of that info line by line manually, and then you have to type each piece into its respective "field," and then you have to physically upload the photo. There are typically lots of individual steps to copy recipes into professional recipe programs.
Yes, there are simpler "import" options with the professional recipe organizers — making it easy to copy several recipes at once, but how often do you need to use that option? For me, only once:  the day I start using the program for the first time and want to bring all of my recipes over. I have no interest in downloading entire databases of recipes that others put together and share online. And even for importing just one recipe found on the fly, the copy & paste method for Google Docs is just quicker and easier.
For me, there's no need to physically clip recipes from magazines anymore. If you've found a recipe in a magazine that you like, just search online for the recipe's name, followed by the magazine you found it in, and a handful of recipe sites will have already shared this recipe online. Plus, you can usually find the recipe in its original form at the magazine's own website, as well!
All in all, Google Docs is just easy. No, it's not fancy. Just easy. And for now, it's my all-time favorite recipe organizer.
Plus, I love the fact that my recipes are always accessible to me — no matter where I am. And I can share them with whoever I want.
I'm completely 100% thrilled that my recipe problems have finally been solved!
NOTE: As the very last step when I'm copying a recipe into Google Docs, I copy the page URL from the address bar of my web browser and paste that url at the very bottom of the recipe. So I'll always know where each recipe came from.
Pros & Cons of Keeping Recipes In Google Docs
Aside from the ease and convenience of using Google Docs to store all of my favorite recipes, there are a few other pros & cons worth mentioning…
For the true recipe aficionados out there, one of the biggest downsides to storing recipes in Google Docs is the fact that the "ingredients" aren't stored in a separate "ingredients database". Therefore, you can't create shopping lists — by recipe — automatically. But I never used that aspect of the professional recipe organizers anyway. So I don't mind that I have to write my own shopping lists by hand. Big deal.
Have no fear, while the recipe ingredients aren't stored in their own "ingredients database" in Google Docs, you can still "find recipes by ingredient" — just like with the professional programs. Simply search Google Docs for any word (or combination of words), and you quickly see all of the recipes that meet the criteria. Plus, you can restrict you search by folder (or folders), as well. For example: "only show me chicken recipes that include sour cream" or "only show me chicken recipes that include sour cream that I have fixed before."
Also, to sort recipes by category in Google Docs, you simply put recipes into "folders". Each recipe can be stored in as many folders (aka categories) as you like:
While the app for Google Docs isn't "fancy" like many professional recipe apps, it's FREE and it's a cinch to use. You can access all of your data that you've stored in Google Docs on your cell phone via Google's mobile app.
In the end, all of the professional recipe organizers are nice, but I don't need to choose ingredients from a database, create shopping lists, and use fancy category names. Nor do I need any more recipes for "free" — the few hundred that are my own personal favorites right now are plenty. And any time I want to add another one, it's a cinch to do so!
It's super easy to add recipes to your Google Docs recipe organizer anytime you find new ones you might want to try. And you always have access to all of your recipes, no matter where you are — as long as you have access to a smartphone, tablet, or laptop. (Just log in using your gmail username and password.)
Google Docs: More Than Just For Recipes

To give you some idea of the capacity to store info in Google Docs…
Before I started entering my recipes into Google Docs, I had 462 "files" saved in Google Docs.
So far, I've entered 240 recipes (as "files" or "docs") into Google Docs, bringing the total number of files I've stored in Google Docs to 702.
I probably have another 100 or so recipes that I also plan to import. They're all recipes that I've clipped from magazines, so I just want to study them more closely first to make sure I really want them. (Chances are, they just looked tasty at the moment I was reading the magazine, and I'd never be inclined to buy the ingredients or go through all the steps required to fix most of them!)
As for those other 462 files I have in Google Docs… to be honest, I only use 15 or so regularly. The rest are holding old info that I just wanted to save somewhere. I've been using Google Docs for many, many years. It's a great "holding tank" for things you think you might need later! And it's easy to stay organized if you keep separate "types" of info in separate folders.
Google Docs is just one of the many programs included in Google Drive that you can use for free. (You can currently store up to 15 MB of data in Google Drive for free, and there are options to increase your storage up to 30TB!)
So yes, you can store recipes in Google Docs this way (or in the way that I've mentioned above, with more pictures, labels, etc), but you can also do so much more with this amazing free program.
These are the types of things I tend to store in Google Docs:
to do lists
ideas for articles I want to write on my blog
personal diary-type stuff on occasion
things I don't want to forget — like medical info
examples of things that others have done that I may like to try at some point
other random tidbits worth saving that would get lost if they were stored on paper somewhere
Are you using Google Docs for anything fun? Have you tried it with your recipes yet?
If you found this post helpful, it would mean the world to me if you would share it with others on Pinterest: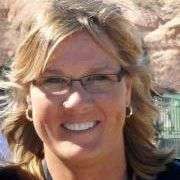 I love my kitchen… and I like to cook. But my #1 requirement is that recipes have fewer than 7 ingredients (or arrive on my doorstep via a food delivery service). My absolute favorite thing about being in the kitchen is trying out new gadgets, cookware, and storage containers! I'm SUPER organized in the kitchen (and everywhere else) and I have every gadget I could possibly need neatly and compactly tucked away until I need it. I share only the simplest recipes (which is great for people who don't like to cook), along with time-saving food tips and cooking tricks (that will save you time and money). When I'm not cooking, cleaning, or organizing my kitchen… you can find me at the corner of Good News & Fun Times as publisher of The Fun Times Guide (32 fun & helpful websites).