This post may contain affiliate links. If you buy thru these links, we may earn a commission at no additional cost to you.
---
All I've gotta say is… Wow, fast food drive-thru's are seriously fast these days!
I don't go to the drive-thru much. Fast grease food restaurants just aren't really my thing anymore.
Kinda reminds me of a sign I saw when driving past a Hooter's in Florida. It read: "Fresh Grease Thursday!"
Also reminds me of a Bud Light Real Men of Genius ad — because I can never decide on what to order at a fast-food restaurant. It's all pretty much the same to me.
Listen to Bud Light's Real Men of Genius "Mr. Really Indecisive Food Orderer Guy":
https://food.thefuntimesguide.com/files/Bud_Light_Real_Men_of_Genius_Mr_Indecisive_Food_Orderer_Guy.mp3

However, Jim was out of town this past week, and I found myself craving the convenience of fast food restaurants for a change.
I opted for Wendy's and McDonald's on 2 different days — for a salad.
While fast food salads aren't usually much to speak of, I was pleasantly surprised with the quick service I received both times at the drive-thru window.
It's as if they're actually purposely trying to get cars in and out quickly — at least during the lunch hour.
So, kudos to McDonald's and Wendy's for giving the people what they want: Fresh food… fast. (Well, okay… at least they've got the "fast" part down.)
Must read: Are Fast Food Salads Healthy?
McDonald's Salads vs Wendy's Salads
For the record, the McDonald's salad (Crispy Chicken Bacon Ranch) blew the Wendy's salad (Chicken BLT Cobb) away!
In pictures, the Wendy's salad looks better than the McDonald's salad. But in my mouth, the McDonald's salad was better.
However… Maybe I should've opted for the cheeseburger instead of the salad after all. Here's why.
The Big Mac, McDonald's signature sandwich, boasts 590 calories and 34 grams of fat while the Bacon Ranch Salad with Crispy Chicken and ranch dressing has 660 calories and 51 grams of fat. Source
Well I de-clare!
Here are the current menus featuring McDonald's salads and Wendy's salads.
FoodReview: Wendy's Grilled Chicken BLT Cobb Salad
More About Wendy's Salads & McDonald's Salads
Just For Laughs: Fast Food vs Dog Food
Perhaps I should just resort to eating dog food the next time I'm craving fast food salads.
Word is, dog food might actually be better for you than fast food anyway!
Don't laugh… some people actually eat pet food as part of their regular diet. (Though you probably shouldn't make a habit of it.)
People Eating Dog Food Without Knowing — Freshpet
UPDATE:
After enjoying the Bacon Ranch McDonald's salad for several days in a row now, I'd have to say that I'm officially addicted!
However, I've managed to try this salad from 3 different McDonald's locations where I live — and what a difference.
A review of McDonald's Salads from 3 locations near me:
Franklin, TN (New HWY 96) – EXCELLENT salad. Chicken was very crispy on the outside and tender and hot on the inside. FRESH salad leaves, with primarily a mixture of spring greens rather than iceberg lettuce. LOTS of bacon and cheese (what gives this salad its name).
Nashville, TN (Broadway downtown) – The "crispy chicken" I ordered turned out to be "grilled" — which was a huge disappointment after leaving the drive-thru. Chicken was fatty and slightly undercooked with strange seasonings. There was hardly any bacon & cheese — which made this just like any salad with spring greens.
Nashville, TN (Metro Center) – The worst yet… Crispy chicken that was slightly undercooked. Mostly iceburg lettuce leaves, rather than spring greens. And a majority of the lettuce was brown …a sign that it was far from fresh. Again, hardly any bacon and cheese toppings. And worse yet: No French dressing at this McDonald's! They weren't out, they just don't stock it. (The cobb dressing was just so-so.)
So, I'm sticking with the best. Fortunately the McDonald's that serves the best salads is also the one closest to my home. I'm glad I had the best first — otherwise, I'm fairly certain that I never would gotten a second Bacon Ranch salad from McDonald's… ever!
Since I watched them cut a whole piece of cooked chicken into slices and place it on my salad (heated) at one of the locations, I know that at least this part of the process is done manually — as it's ordered. Whether or not all McDonald's salads are pre-packaged and shipped to the stores, or whether each store pre-makes its own salads a day or 2 in advance, I do not know. (I tend to think it is the latter.)
More About Fast Food Salads
Proof That Fast Food Salads Are Anything But Healthful | Huffpost Video
ANOTHER UPDATE:
My latest addiction is the McDonald's Fruit & Walnut Salad!
It's filling enough for a meal itself, but I often get it as a "healthy" dessert or snack (…at a cost of 310 calories). And, yes, I do realize those sugar-coated "candied walnuts" are far from healthy!
The Fruit & Walnut Premium Salad includes premium fresh fruit: USDA #1 sliced apples and red seedless grapes, with a side of low-fat vanilla yogurt and candied Diamond walnuts to sprinkle on top. The new Fruit & Walnut Premium Salad is part of McDonald's on-going commitment to encourage food-energy balance. Source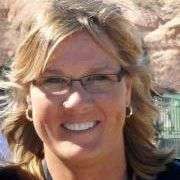 I love my kitchen… and I like to cook. But my #1 requirement is that recipes have fewer than 7 ingredients (or arrive on my doorstep via a food delivery service). My absolute favorite thing about being in the kitchen is trying out new gadgets, cookware, and storage containers! I'm SUPER organized in the kitchen (and everywhere else) and I have every gadget I could possibly need neatly and compactly tucked away until I need it. I share only the simplest recipes (which is great for people who don't like to cook), along with time-saving food tips and cooking tricks (that will save you time and money). When I'm not cooking, cleaning, or organizing my kitchen… you can find me at the corner of Good News & Fun Times as publisher of The Fun Times Guide (32 fun & helpful websites).