This post may contain affiliate links. If you buy thru these links, we may earn a commission at no additional cost to you.
---
Jim and I were on a mission to cook from home more and eat out less. The goal was to eat healthier, less processed food and fast-food.
Making bread was one of the things we figured we would enjoy — especially if we explored beyond the traditional white bread loaf.
I was excited to make these 2 things in a bread machine:
homemade banana bread
homemade pizza crust
So I set out to research and review bread machines, bread slicers, and bread knives.
Here's what I found…
Finding Bread Machine Recipes
First things first, I had to make sure you could make more than your basic white bread — or wheat bread — in a bread machine.
So, I bought this highly-rated bread machine recipe book:
The best thing about this book:
There are more than 300 bread machine recipes, so we won't get bored making the same 'ol thing every time.
The only downside to this book:
The recipes are simple and easy to make, but there are no pictures. (The recipes I tend to save — online and from magazines — are those that have pictures, so I know what to expect.)
Deciding On A Bread Machine
Next, I researched a number of bread machines and decided this was the best one for us:
The extremely high number of positive reviews sealed the deal for us.
We love this bread machine. It has made perfect loaves of bread every time. And you don't have to do anything extraordinary — just toss the ingredients inside the bread pan and turn it on!
I also like how readily available the only 2 parts you might need to replace on this bread machine are:
I had never used a bread machine before. (Never made a loaf of bread from scratch either.)
I can tell you… this bread machine is a cinch to use!
While I sometimes dabble in the kitchen and manage to come up with some fairly good recipes sometimes, I'm no cook. And I'm definitely no baker!
Trust me, this bread machine saves the day and makes you feel like a pro.
The bread turns out flawless every time. There are so many ways you can mix up the recipe to get different types of bread — so variety is never a problem.
My favorite is banana bread, made with overripe bananas. I used to make it in the oven all the time, but using the bread machine is even easier.
Jim's favorite is Italian bread with herbs (…which I like to dip in an oil & herb mixture as a snack). I also like to cut thick slices off the loaf, coat them in garlic butter, cheese & herbs and bake in the oven til crispy — homemade garlic bread!
In Search Of The Perfect Bread Slicer & Knife
After awhile, we decided if we were going to be making bread this often, then we might as well invest in the right tools for cutting and slicing bread as well.
Option #1: We started out using an 8-inch serrated knife and a wood cutting board. Trust me, this isn't the easiest thing to do with a loaf of fresh-baked bread. You end up pushing so hard on the top of the loaf to keep it steady, while you're sawing back and forth trying to cut a reasonably sized slice of bread. Our bread slices always — yes, always — ended up way too thick. Thick is fine… sometimes. But you don't always want a thick slice of bread — like when you're making sandwiches. Thick bread for dipping and for buttering is great once in awhile — but not all the time. Thick is also good for french toast. But generally, we prefer thinner slices of bread. Unfortunately, we found it almost impossible to cut 'normal' thin slices of bread with a regular knife and cutting board.
Option #2: We tried an electric knife (we already owned this one), but it just seemed like a lot of trouble to slice off a piece of bread each time. Who keeps their electric knife handy on the counter day in and day out? Not us. While the electric knife did cut the slices of bread more uniformly, it was kind of messy — with bread crumbs flying in every direction — and loud. Suddenly homemade, fresh sliced bread turned high-tech and felt less glamorous than homemade bread should.
Option #3: We finally decided to invest in a bread slicer. The goal was to find one that allowed for adjustable sizes per slice — at least a thicker option and a thinner option, if nothing else. We also wanted a way to stabilize the loaf of bread while we were cutting it.
The Bread Slicers / Bread Guides We Considered
I was completely shocked to find that there were no stores in my area selling bread slicers — not even Williams Sonoma. They have a nice bread board with crumb catcher, but it's about the price I wanted to pay for a slicer and a board. So I passed.
At other stores, store clerks looked at me like I was from another planet when I asked if they could show me where where the bread slicers were.
So I took my search online. Amazon is my favorite place to find things — because I like to see what people who actually own the product think. The reviews are priceless in my opinion, and Amazon always seems to have the most (genuine) reviews on products.
These are the bread slicers we considered:
Compact Foldable Bread Slicer (see video)
Pros: made of 100% bamboo, classic rustic wooden look, accommodates loaves up to 7 inches wide
Cons: flimsy, needs to be sturdier in order to last over time, limited to either thin or thick slices
Bread Pal: The Original Foldable Bread Slicer (see video)
Pros: has a (plastic) guide to keep the loaf in place, spring-loaded design makes it easy to fold up and put away, made in the USA, no assembly required
Cons: has only 2 slicing sizes which may be considered too thin or too thick by some, loaf must be 6 inches wide or less to fit between the walls
Bread Slicer Elite w/Stainless Steel Guide & Maple Wood Bread Board (see video)

Pros: you can choose the exact size you want for each slice, rubber feet grip the countertop, made in the USA, well-assembled to be long-lasting and durable
Cons: bread loaf must be 5 inches or less in width to fit on the built-in cutting board
Classic Heavy Duty Maple Wood Bread Slicer (see video)
Pros: easy to slice any size/shape loaf, choose your own slice sizes, can be used with a shorter knife, a solid piece of wood that will last a lifetime, rubber feet on the bottom to hold it in place while you cut, no assembly required, made in the USA
Cons: can leave black rubber marks on the counter from the rubber feet
Presto Bread Slicing Guide With Coded Guide Slots (see video)
Pros: the inclined angle keeps the loaf of bread in place while you're cutting, and the cutting grooves go beyond the bottom of the loaf making it easy to cut slices all the way through
Cons: it's a discontinued model so it's hard to find/expensive, loaf must be 5-1/4 inches wide or less, if you accidentally cut into the plastic guide it becomes permanently marred
The Bread Knives We Considered
I knew that I wanted a very sharp, serrated knife for slicing bread evenly. Because what matters most when cutting bread is the depth of the serrations.
I also wanted a bread knife with an offset handle because "you can cut through the bottom crust of a loaf of bread without scraping your knuckles on the counter."
I've heard that longer knives are better when it comes to slicing bread — especially if you're using it in a traditional bread slicing guide. People seem happier with 10-inch and 12-inch bread knives when cutting bread.
And I didn't want to pay much for a bread knife. I admit it, I'm cheap. (I mean frugal.)
So I started by looking at the best-selling bread knives on Amazon.
These are my personal favorites and the ones we considered buying as our primary bread knife for the homemade bread loaves we are now making frequently:
We found that for a knife to be a great all-purpose tool that excelled at cutting bread and soft, ripe tomatoes as well as cake layers and gooey sticky- bun dough, it needed 3 main traits: a slightly flexible blade between 10 and 12 inches long, with serrations that are both uniformly spaced and moderate in length. ~Cooks Illustrated
Bread Slicing Tips
Okay, here's a great tip for slicing bread that I found online:
What has worked for me is this: After the knife enters the bread at the top, I don't look at the knife: I look at the BOTTOM of the bread. In other words, where the knife should be going. It's sort of like golf, as my mother used to say, look where you want the ball to be, not where it is. ~Deanna
Here are some more excellent tips for slicing bread.
Ho hum… it appears that there may not be one single knife that is best for slicing bread. Here are some tips for choosing a good bread knife.
Slicing: How to Slice Bread Properly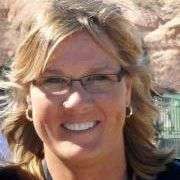 I love my kitchen… and I like to cook. But my #1 requirement is that recipes have fewer than 7 ingredients (or arrive on my doorstep via a food delivery service). My absolute favorite thing about being in the kitchen is trying out new gadgets, cookware, and storage containers! I'm SUPER organized in the kitchen (and everywhere else) and I have every gadget I could possibly need neatly and compactly tucked away until I need it. I share only the simplest recipes (which is great for people who don't like to cook), along with time-saving food tips and cooking tricks (that will save you time and money). When I'm not cooking, cleaning, or organizing my kitchen… you can find me at the corner of Good News & Fun Times as publisher of The Fun Times Guide (32 fun & helpful websites).