This post may contain affiliate links. If you buy thru these links, we may earn a commission at no additional cost to you.
---
We go to Sonic at least once every week.
It's a fun evening drive for us. A nice road trip for the dog in the back of the Jeep Wrangler. And a great way to cure the 'ol sweet tooth.
Jim's all-time favorite is: whatever flavor of Sonic Blast they're promoting this week. (He's quite the adventuresome one.)
My all-time favorite is: the Sunshine Smoothie — they have it on their breakfast menu, but it's a great healthy dessert drink any time of the day, if you ask me. Sometimes, I'll switch it up with a Banana Split instead.
Anyhoo, tonight at Sonic I noticed a few unique things I'd never seen before…
1.  Did you know that you can buy bags of ice at Sonic?!
I'm not sure how much they are, but one of the roller-skating servers was trekking a big 'ol bag of ice to the car of someone who'd ordered it. The exact same bag of ice that you buy at a grocery store, convenience store, or gas station. Cool, right? Talk about convenient!
2.  At Sonic, you can buy a fresh banana for 99 cents.
Quite interesting if you ask me, but a nice healthy snack nonetheless. I saw a new sign on Sonic's order board that mentioned new items in the Kids Pack included "your choice of a banana or string cheese". Okay.
3.  Here's my cheapskate tip of the day… if you order a Banana Split, ask for "nuts on the side".
I found this out on accident the other day. They forgot to add the nuts that I'd requested (and paid for), so they brought me some nuts in a medium-sized container with a lid after the fact. There were so many nuts, they could've been used to top three banana splits! So now I've decided to always ask for "nuts on the side", because you never get enough when you let them sprinkle a few on the Banana Split itself.
4.  And I have to say that I feel at least somewhat responsible for bringing the "old school" style of Sunshine Smoothie back to the Sonic menu.
What's the difference, you ask? There for awhile, they were making their Sunshine Smoothies with flavor packs or something. They described it to me once… it was something like flavored powder mixed with crushed ice; more like a slushy than a smoothie. But the "old school" way before that was to use pure ice cream, real strawberries, and fresh bananas — all mixed together. After having to special-request that they make my Sunshine Smoothie the old school way (for about a year), they just recently went back to making them with ice cream and fresh ingredients again — at all of the 5 or so locations that we frequently visit. Yay!
There are lots of reasons that Sonic is our all-time favorite fast-food restaurant these days. It has been for a couple of years now.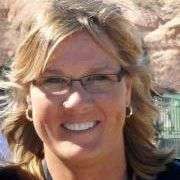 I love my kitchen… and I like to cook. But my #1 requirement is that recipes have fewer than 7 ingredients (or arrive on my doorstep via a food delivery service). My absolute favorite thing about being in the kitchen is trying out new gadgets, cookware, and storage containers! I'm SUPER organized in the kitchen (and everywhere else) and I have every gadget I could possibly need neatly and compactly tucked away until I need it. I share only the simplest recipes (which is great for people who don't like to cook), along with time-saving food tips and cooking tricks (that will save you time and money). When I'm not cooking, cleaning, or organizing my kitchen… you can find me at the corner of Good News & Fun Times as publisher of The Fun Times Guide (32 fun & helpful websites).