This post may contain affiliate links. If you buy thru these links, we may earn a commission at no additional cost to you.
---
I think one of the things that Rachael Ray does (for all of the non-cooking aficionados like me) is she makes cooking FUN.
Not only does she use fun & catchy phrases to describe everyday cooking terms, but she really doesn't give a hoot about being precisely accurate or doing things "by the book" when she's cooking. For me, that takes a lot of the stuffiness associated with the act of cooking like a pro.
For me, what it all comes down to is this:
Recipes are meant to be tried, experimented with, and enjoyed… the way you like 'em!
My Take On Rachael Ray
I have to admit, when I caught early snippets from her show when it started (last year?), I wasn't too impressed. And I wasn't really into her perky, loud, talkative personality. But that's just me.
Fast-forward a year or so, and I still don't care for her talk show too much. But I enjoy watching her cook on the Food Network. She always has a quick tip or two that make you think, "Now why didn't I think of that?!"
I mostly like how she "thinks outside the box" when it comes to cooking. Rachael Ray helps make cooking fun and less intimidating for the non-cooks among us.
Cooking Phrases Coined By Rachael Ray
As annoying as some of them may be, you can't help but appreciate her memorable "Rachaelisms"… those words, phrases (or letters) that Rachael Ray has turned into everyday kitchen terminology.
Some of them include:
Sammies (for "sandwiches")

Stoups (for "soups that are thick like a stew")

EVOO (for "extra-virgin olive oil")

Yum-o (for "yummy")

De-lish (for "delicious")

Easy-peasy (for "super-easy")

Garbage Bowl (for "a bowl placed on the countertop & used as a garbage receptacle while cooking")

 
Popular Rachael Ray Measurements
Larger chopped & grated pieces:
Tiny, fine ingredients that are chopped:
Odd-sized rough-cut herbs, etc:
Liquids:
1 glug from the bottle = 1/4 cup
I also like how she says, "I'm cook. Not a chef."
What Others Think Of Rachael Ray
Lots of people don't like her. Many can't get past the fact that she didn't have formal training as a chef, where most of the "true" chefs worth their weight in gold have years of specialty food training behind them. Whatever.
I say, if she can make a decent meal. And show you ways to do things faster, better, tastier… what's not to love about Rachael Ray?
To each his own.
Oh, and she recently won an Iron Chef competition (paired with Mario Batali). That's gotta say something about her cooking abilities!
On My Wish List…
UPDATE:
Quiznos recently
added "Sammies" to their menu
. I wonder if Rachael Ray was the inspiration for the Quiznos Sammies.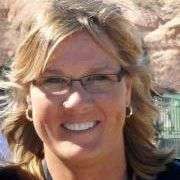 I love my kitchen… and I like to cook. But my #1 requirement is that recipes have fewer than 7 ingredients (or arrive on my doorstep via a food delivery service). My absolute favorite thing about being in the kitchen is trying out new gadgets, cookware, and storage containers! I'm SUPER organized in the kitchen (and everywhere else) and I have every gadget I could possibly need neatly and compactly tucked away until I need it. I share only the simplest recipes (which is great for people who don't like to cook), along with time-saving food tips and cooking tricks (that will save you time and money). When I'm not cooking, cleaning, or organizing my kitchen… you can find me at the corner of Good News & Fun Times as publisher of The Fun Times Guide (32 fun & helpful websites).