This post may contain affiliate links. If you buy thru these links, we may earn a commission at no additional cost to you.
---
I have to say… I am thoroughly enjoying my latest stint as a "cook". (Of course, I'm using that word loosely.)
This go-around, I've been taking tips from the "pros". Experimenting with lots of fun new easy recipes. And organizing recipes (including photos) in a recipe program I've had for years, but never fully utilized until now.
So far so good. Everything's been edible. And Jim seems to be enjoying this process, as well.
My biggest motivating factor has been The Food Network. For the past few weeks, I've been addicted to the Food channel on TV …which before now, simply made me hungry. Now, it makes me want to try new things.
Food Is Better Than Golf
I've gotta admit, I never thought it would be the least bit interesting to sit and watch people cook… for hours… on TV.
(Much like watching people play golf on the Golf Channel. That doesn't even sound like fun.)
But if you have the slightest interest in learning how to cook, then watching The Food Network is interesting… and FUN.
Yep, all of a sudden, I'm a Food Network junkie. (Jim actually enjoys watching it, too. And previewing some of the meals that I intend to make.)
Food Channel Favorites
The biggest thing (for me to have the energy for cooking) is: The recipes have got to be quick & easy, made with everyday ingredients, and non-gourmet all the way, baby!
I really enjoy the wealth of information you can obtain from "the pros" simply by watching them prepare meals on TV. It's the little things — how they do something (moreso than what they're actually cooking) — that make that channel worth its weight in gold.
I mostly enjoy watching:
Rachel Ray — not her talk show, but her "30-Minute Meals" show on The Food Network


Tyler Florence — he's downright practical on his cooking shows: "Tyler's Ultimate", "How to Boil Water", and "Food 911"


Paula Deen — but there's only so much giggly energy I can take in each episode of "Paula's Home Cooking"


Dave Lieberman — I like the down & dirty tips and recipes he shares on his "Good Deal" show

So far, I've been experimenting with Rachel Ray recipes and Tyler Florence's recipes. As for the others, I've mostly been learning quick tips from them at this point.
Summary
Who knew a cooking show could be so much fun?… But it's suddenly more interesting (and makes more sense) when you can watch how things are done.
And I've noticed there are lots of little things that they demonstrate which don't get printed in the recipes themselves. Those are often the things that can turn a regular recipe into an easier or better recipe.
Watching the steps they go through… the tools they use… the cookware they prefer… and why… and the many quick tips & tricks they share on TV have really made things "click" for me.
Check out 10 Things Celebrity Chefs Won't Tell You.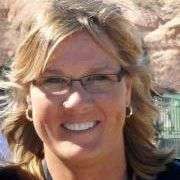 I love my kitchen… and I like to cook. But my #1 requirement is that recipes have fewer than 7 ingredients (or arrive on my doorstep via a food delivery service). My absolute favorite thing about being in the kitchen is trying out new gadgets, cookware, and storage containers! I'm SUPER organized in the kitchen (and everywhere else) and I have every gadget I could possibly need neatly and compactly tucked away until I need it. I share only the simplest recipes (which is great for people who don't like to cook), along with time-saving food tips and cooking tricks (that will save you time and money). When I'm not cooking, cleaning, or organizing my kitchen… you can find me at the corner of Good News & Fun Times as publisher of The Fun Times Guide (32 fun & helpful websites).