This post may contain affiliate links. If you buy thru these links, we may earn a commission at no additional cost to you.
---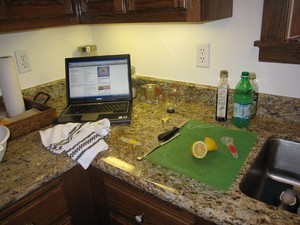 There are 37,500,000 chef blogs. Give or take a million. But, that's the number that Google says there are if you search for the term.
Most of them, of course, are worthless. They are not really interesting or informative. They are not well written or topical. They are not written by chefs who have much to say (presuming they are actually written by chefs at all).
But there are some good ones. Scores of them, in fact. And there are 4 in particular I find myself going back to read frequently.
Tom Colicchio – Top Chef
One of my favorite chef blogs is by Tom Colicchio from "Top Chef".
Now, if you don't watch Bravo's "Top Chef" then you may want to skip this one since it is directly related to the show.
That said, what I like about it is that Tom doesn't pull any punches. His blog posts explain everything from the judging criteria to how the show is filmed to why the judges made their decision. He also isn't afraid to lay out exactly how he feels about things related to the show or the food on it.
Anthony Bourdain – No Reservations
Another television show chef's blog that's fun to read is Anthony Bourdain's. He is the best-selling author and host of the Travel Channel's "No Reservations".
This guy is a very entertaining writer. His style is honest and brash. You'll laugh, you may be offended, but you'll be back for more.
Many of his blog posts are about the show, including behind the scenes moments, but this blog also wanders off into other parts of Anthony's mind. He'll talk about food, of course, but then there are posts that you're not sure where they came from. Like a recent one where he critiqued every show on Noggin and Nick Jr. (although now there is no Noggin and it's all Nick Jr., but that's a story for another website).
Mark Bittman – The Minimalist

Mark Bittman is another author I enjoy reading.
Mark is the author of How to Cook Everything, Food Matters and several other books. He is also the author of The Minimalist for The New York Times (and if you don't subscribe to The Minimalist cooking video podcasts you should – very entertaining and very informative).
His blog is called Bitten and it is a great take on food and cooking. It is somewhat east coast/New York centric but since it's his blog for The New York Times, that's to be expected. Plus you get a look inside the New York restaurant scene.
Evan Kleinman – Good Food
On the other coast is Evan Kleinman who hosts KCRW radio's "Good Food" (and if you don't live in Southern California you should subscribe to the podcast of the show – it's great).
Evan's blog offers posts exploring food topics from what's fresh at the farmer's market, to what she's cooking, to videos and other food tidbits she finds interesting. It's a good companion piece to her show and you'll pick up some good recipes.
I've been in the food industry for years. Grilling and tailgating are my specialties. I'm also addicted to watching food shows on TV.