This post may contain affiliate links. If you buy thru these links, we may earn a commission at no additional cost to you.
---
Without a doubt, my favorite cooking device is the crockpot.
Being able to throw a few ingredients together and leave them unattended for 6 to 8 hours only to return to a perfectly executed meal is just about the greatest thing ever!
Check out the top 10 reasons to use a crockpot, rather than stovetop or oven cooking.
I really enjoy serving up a super tender pot roast that falls apart with a fork. Nevermind the flavorful gravy that's made from the drippings left over from cooking.  With a slow cooker, there's no worrying about over-cooking.  The longer the meat simmers, the more tender it becomes.
Of course if you're pressed for time, a pressure cooker can give you about the same results in a heck of a lot less time.  However, with a pressure cooker you need to be right there while it cooks.
I like that the crockpot is more like a gourmet robot that works by itself.
Here are some more ways to make meat tender when cooking:

Do you know which cuts of meat are the most tender to begin with, and which are the toughest cuts of beef?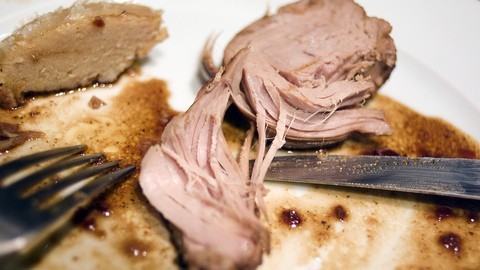 One of my all-time favorite "hobbies" is cooking at home! I especially enjoy experimenting with new ingredients …and different types of cookware. My specialties are foods that are diabetic-friendly, keto-friendly, and low-carb. I share my favorite recipes and cooking tips here at The Fun Times Guide to Food.