This post may contain affiliate links. If you buy thru these links, we may earn a commission at no additional cost to you.
---
I recently planned a campfire night with some of the neighborhood mamas and their kiddos.
We had grand plans to make these delicious Campfire Cones which I discovered online — because I wanted to provide a fun outdoor activity for the kiddos. (Plus, I don't really care for the taste of traditional Smores.)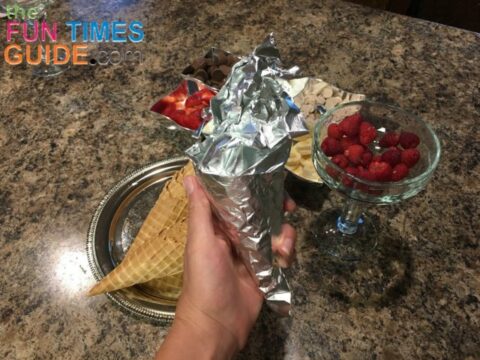 Unfortunately, we were rained out the night of the planned party, so I never got to try these over a campfire.
But let me tell you, they are certainly delicious heated in the oven — similar to Smores in the oven… but much better!
I'm going to show you how to make Campfire Cones — with or without a campfire. A fun alternative to making Smores at home…
Reasons To Love Campfire Cones
Campfire Cones are my new favorite sweet tooth craving.
They are super easy to make, and you do not need a campfire to make them!
The beautiful thing about these kid-friendly treats is the fact that the ingredients are limitless — so you can customize your cone to whatever suits your palette.
These Campfire Cones would also make a unique DIY dessert bar, if you ever want to offer your guests a different kind of customized dessert.
You may be inspired by some of the display ideas from my DIY cupcake bar that I created for another party.
Campfire Cones are wonderful treats that are fun for all ages to make!
Just as you can make Smores in the oven, you can make Campfire Cones on the grill, in the oven, or over a campfire.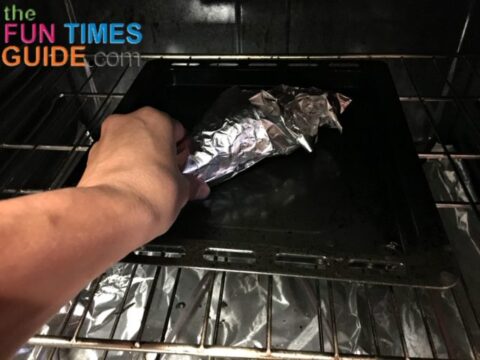 TIP: I tried to make one in the microwave, and it just wasn't the same. There is a delicate balance of marshmallow meltedness which only slower heating can achieve.
How To Make Campfire Cones
Since I had all the ingredients from our pre-planned campfire party which got rained out, I got together with my neighbors to try the oven version of Campfire Cones after dinner one night.
For my version of Campfire Cones we used these ingredients:
Fresh strawberries
Fresh raspberries
Sliced bananas
Mini marshmallows
1 sheet of aluminum foil for each cone
These are the steps to make Campfire Cones:
Preheat the oven to 350 degrees Fahrenheit.
Wash, prep, and slice the fruit.
Put all ingredients on a flat surface (table or countertop) to make it easy to see everything that's available.

Build your custom Campfire Cone — fill a waffle cone with whatever makes your mouth water!
Once the waffle cone is stuffed to the brim, wrap it entirely in foil to prep it for heating.
Heat the cone. (It only takes 5 to 7 minutes to heat the actual cone itself, depending on your oven.)
Unwrap the foil from the cone… then enjoy. All of the delicious ingredients you custom selected will be melted to a gooey perfection!
My 4 Best Tips For Making Campfire Cones At Home
These are more fun the more you make them! Here are a few tips I've learned along the way:
I've found that Campfire Cones are best when heated just to the point of melting — because of the marshmallows.
After you make your first cone, be sure to leave out the ingredients. You will definitely be thinking of ways to perfect your waffle cone stuffing technique while you're eating the first one! (I'm speaking from experience after our first attempt at making Campfire Cones… one was simply not enough, and it was fun to think about how we would stack the ingredients differently to get the perfect combination.)
Since I like the combination of sweet and tart, I think the raspberries were the perfect thing to toss in with all the other yummy goodness! I stuffed my first cone with white chocolate chips, mini marshmallows, bananas, mini peanut butter cups, raspberries, strawberries and caramel chips — Oh, so good.
You can also pre-make Campfire Cones and store them in the freezer — so you can have a super fast dessert whenever you want it! After stuffing a few cones, store each pre-made Campfire Cones in a Ziplock bag in the freezer. When you're ready to eat one, wrap the waffle cone in foil and heat in a 350-degree oven.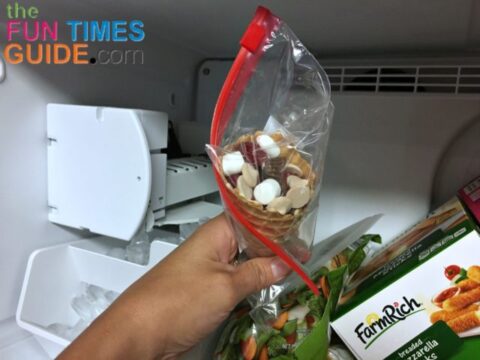 The Bottom Line…
This is a special dessert treat that I was super happy to discover, and I can't wait to try them over a campfire with friends.
In the meantime, my baby and I have enjoyed the Campfire Cones made in the oven on a couple occasions so far. They are the perfect little sweet treat for us both — a tasty alternative to routine Smores deliciousness.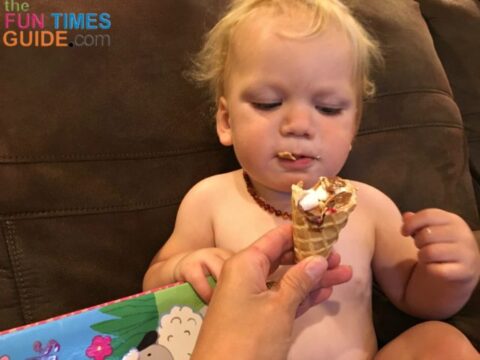 I especially love how you can fill the waffle cones with whatever you'd like.
I'd love to hear your versions of Campfire Cones or other ways you make Smores at home!…
Other Alternative Smores Ideas
Here are some other resources to help you find tasty alternatives to making Smores at home:
I'm a first-time mom. I work from home and write — mostly about my outdoor adventures, DIY projects, newly discovered products, and helpful tips as a first-time mom. I also like to share details about the alternative choices I'm exploring, as I enjoy this journey called motherhood. My family includes a toddler, 2 stepchildren, 1 dog, 1 cat, and a wonderful husband. My pre-pregnancy life was full of freedom and adventure, so I have a fresh new perspective when it comes to walking away from a career to become a full time stay at home Mama.