This post may contain affiliate links. If you buy thru these links, we may earn a commission at no additional cost to you.
---
We all use spices at one time or another to cook with.
Even if it's just oregano and bay leaves for spaghetti, or cinnamon and nutmeg for cookies, most of us have at least a few spices in our kitchen.
Finding unique ways to store your spices — whether you have a few or a bunch — can be a really fun project!
Here are several interesting spice racks, plus some really clever ways to store your spices…
---
These tiered shelves make it easy to see the labels on all of your spices at once.
Otherwise, without the tiered shelves, the spices in the front row always have to be removed in order to see which spices are behind them. That can be really annoying.
---
#2 – Put a turntable on your kitchen counter or in your cupboard to hold your spices.
A double-tiered turntable (also known as a lazy susan) makes it easy to access your spices from any angle.
Simply swing the turntable around until you can reach the one you want!
---
#3 – Install shelves or drawers (made specifically to hold spices) in your kitchen island.
Since the kitchen island is usually the most centrally located item within your workspace, it makes sense to keep your spices there.
You can have the shelves built directly into the island, or use aftermarket add-ons.
There are lots of really interesting shelves, hangers and drawer organizers for the island. Most look good enough to display right on the side of the island itself.
---
#4 – Turn a couple of kitchen drawers into spice rack drawers.
I've personally done this one myself, and like this method quite well.
If your spice containers can stand up in the drawer (rather than lying on their sides), then you might want to label the lids with the name of each spice. Otherwise, you'll be picking them up out of the drawer to look at each one until you find the spices you want.
You can use a Sharpie marker to write directly on the lids, or use a label maker.
This is especially true if most of your spices are in small, short containers like McCormick or Durkee spice tins.
---
While some say that it's not wise to keep fresh spices so close to heat and moisture (which is a common occurrence near the stove), sometimes you just have to work with the limited amount of space that you have in your kitchen. Above the stove may be the only free space you have!
The most ideal option would be to install a shelf directly above the stove, if one is not already there.
The advantage to storing your spices above the stove is the fact that the space tends to be narrow, therefore, only one row of spices is possible. That means you can always see the labels on your spices and find what you need easily.
---
#6 – Use test tube spice racks to turn your kitchen into a totally tubular one!
With some food-safe test tubes and a little rack, your spices can be prominently displayed in a really fun way.
The only downside is the size of the test tubes will dictate how frequently you have to refill the test tubes. Plus, most don't have shaker tops to sprinkle spices directly from the container.
---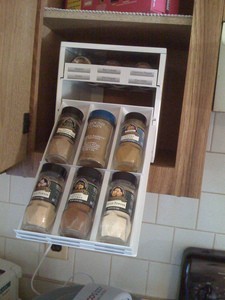 Depending on the size, this is one that you would probably need to hire a carpenter to build for you (either before your new home is built, or as an after-market product), but it would be very convenient.
You would have all of your spices in one place and they'd be completely out of the way when you didn't want to use them!
---
Simply label all of your spices lids with stickers or a label maker. Then, put your spice bottles in a basket in your cupboard.
When you want to use your spices, just take the basket down and you can easily find what you need.
---
#9 – Spice towers are another fun way to store spices.
You can clearly see all of your spices, since the spice jars are stored at an angle and each in the perfect proportion to one another.
The interlocking spice tower is my favorite. I like how each of the containers completely see-thru.
---
These come in all shapes and sizes, or you can make your own magnetic spice rack. (Video instructions here, and more instructions here.)
Since the lids are clear, you can see which spices are in which container at a glance.
And it's easy to see how much you have left in each one too.
---
#11 -Turn a curio cabinet or a regular household display shelf into a custom spice rack.
Chances are, you already have such a shelf (or curio cabinet) at home already.
If you're not using it to display collectibles and other decorative items, then consider using it to hold all of your spices!
More Fun Tips For Storing Spices
My favorite things to write about are topics that have to do with pregnancy, weddings, saving money, living green, and life with dogs. When I'm not writing, I love to spend time with my husband, read, create 3D artwork and Native American beadwork.