This post may contain affiliate links. If you buy thru these links, we may earn a commission at no additional cost to you.
---
On a cold, blustery day, there's nothing better than a hot bowl of hearty soup to warm the soul!
This isn't the time for a watery vegetable consume. You need a thick, creamy chowder that will stick to your ribs and satisfy a big appetite.
My wife's favorite is New England clam chowder. I must admit, it ranks equally high on my must-have list as well.
Of course, you can buy numerous brands of canned soup (that, in my mind, only rank as a mild OK), but if you really enjoy good quality clam chowder, then nothing beats homemade from scratch!
Here's my favorite recipe for New England clam chowder…
New England Clam Chowder Recipe
In the past, we often made the journey across town to The Old Country Buffet, a restaurant chain whose chowder we considered pretty darn good.
I've tried a couple different recipes for clam chowder, but tonight I garnered the highest compliment from the Missus. My New England clam chowder was even better than what The Old Country Buffet served! That beats any blue ribbon I could ever win, in my mind!
New England clam chowder is surprisingly simple to make. The ingredients are common and easy to find, and there are no complicated steps involved in creating a nice thick, rich, creamy soup that everyone will enjoy.
Ingredients:

3- 6.5 oz cans minced Clams
1- quart Half & Half
2- cans Chicken Broth
1- cup diced Onion (white)
1- cup diced Celery
3- cups diced Russet Potatoes (½-inch)
¾ cup Flour
¾ cup Butter or Margarine
½ teaspoon Pepper
1- teaspoon Sugar
Salt to taste (about 1 teaspoon)
In a large soup kettle, add the potatoes, onion, celery, chicken broth, and the juice from the clams. (Save the clams for later.) Simmer for about 20 minutes, until the potatoes are tender.
In a separate sauce pan, melt the butter, then slowly add the flour while stirring continually. A whisk works best, so there will be no lumps.
When it's smooth and creamy, add the half & half. Bring to a slight boil while continuing to stir.
Once it becomes a nice thick bubbling sauce, poor it into the soup kettle with the vegetables. Continue to stir, because it will start to boil and thicken.
At this point, begin to fold in the clams. (Adding them earlier would make them rubbery and cause them to lose much of their flavor.)
Your soup is now ready to serve and enjoy!
The Perfect Sides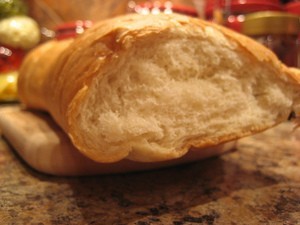 Many people choose Oyster crackers as a nice complement to their clam chowder. We had a loaf of French bread in the freezer and went that route instead this time.
We purchased a couple loaves of bakery fresh French bread several days ago. Once we got them home, they went straight into the freezer. Today, almost a week later, I cut off a portion of the long loaf for our clam chowder meal, sliced it up, and microwaved it for less than a minute. The bread came out smelling like it was right off the baker's oven rack. It was a perfect complement to our hearty soup!
The best part of this whole experience is now we no longer need to drive across the busiest part of the city to satisfy our chowder cravings. Made in our own kitchen, we can kick back and enjoy the bad weather inside by the fireplace… right where we belong.
One of my all-time favorite "hobbies" is cooking at home! I especially enjoy experimenting with new ingredients …and different types of cookware. My specialties are foods that are diabetic-friendly, keto-friendly, and low-carb. I share my favorite recipes and cooking tips here at The Fun Times Guide to Food.