This post may contain affiliate links. If you buy thru these links, we may earn a commission at no additional cost to you.
---
Jim and I are fulltime RVers and we have been sitting in one place since New Year's Day, volunteering at Unicoi Sate Park in Helen, Georgia. But, we'll be leaving next week, headed out to Arizona for our summer job.
Whenever we get ready to move, I try to use up as many of the groceries as I can before we go. Tonight, I wanted to make spaghetti, but I didn't have any spaghetti sauce. I also didn't have all the things I needed to make it. So, I put together some things I did have and came up with a pretty good dinner.
It is gluten free, and low in fat and sugar, so it was good for both of us.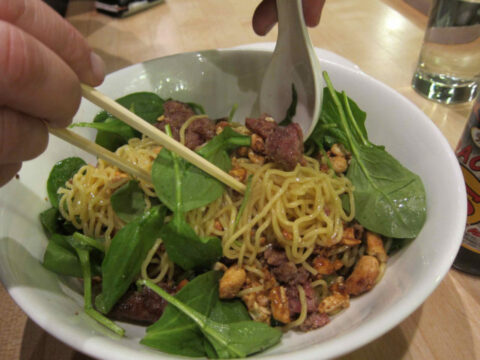 Sausage Spinach Stir Fry With Gluten-Free Pasta
Ingredients:
1 onion, chopped
1 shallot, chopped
1 whole head of garlic, peeled and chopped
1 small can sliced mushrooms, drained
½ lb pork sausage
½ lb frozen chopped spinach
8 oz gluten free spaghetti noodles
For the sauce:
1 envelope Sun-Bird Stir-Fry Seasoning Mix
½ cup water
2 tablespoons gluten free soy sauce
1 tsp sugar
Cook pasta according to package directions. Drain, and keep warm.
In a large skillet, cook sausage, crumbled, until browned. Put the sausage in a colander and let the grease drain off. Rinse out the pan, add 1 tablespoon of olive oil. Saute the onion, shallot, garlic, and mushrooms until the onions are clear. Add the drained sausage back to the pan. Meanwhile, steam the spinach for 3 minutes in the microwave. Add steamed spinach to the skillet, stirring to combine.
We both like the Chinese stir fry sauce with this, but Jim likes it a lot more than I do. So, long ago I started cooking it separate, rather than adding the sauce to the skillet, as recommended on the back of the package.  This method lets everyone use as much or as little as they want.
In a glass microwavable measuring cup (2-cup size), add ½ cup water, the contents of the envelope of stir fry seasoning mix, 2 tablespoons of gluten free soy sauce, and 1 tsp sugar. Stir well. Put in the microwave and cook 1 minute. Take it out, stir well, return to microwave. Cook 1 more minute. Stir well again. If it is too thick, add ¼ cup more water to thin.
To serve, place a serving of pasta on a plate, top with the sausage spinach mixture, then with as much of the sauce as you want.  This is good with a side salad or with corn on the cob.
My hubby and I have been living in a travel trailer and working at campgrounds and resorts for the past several years. We decide where we want to go, and look for a job there.