In honor of July being National Hot Dog Month…
I hope you enjoy the following funny hot dog videos & audio clips, including my favorite: Mr. Hot Dog Eating Contest Contestant from Bud Light's Real Men of Genius.
The World Champions
Each Fourth of July, twenty people line up behind a 40-foot table at Nathan's Famous Hot Dogs (on the corner of Surf and Stillwell avenues) in Coney Island to take part in a 12-minute hot dog eating contest.
In the sport of competitive eating, they are known as "gurgitators".
Nathan's Famous 4th of July event has been held each year since 1916 and has revealed a number of world record eating champions.
Hot Dog Eating Contest Audio

Listen to Bud Light's Real Men of Genius "Mr. Hot Dog Eating Contest Contestant":
https://thefuntimesguide.com/audio/Bud_Light_Real_Men_of_Genius_Mr_Hot_Dog_Eating_Contest_Contestant.mp3

Amateur Hot Dog Eating Contest Videos
More Hot Dog Humor
Watch as Joey Chestnut downs 47 grilled cheese sandwiches in 10 minutes to set a new world record. (Check out the "dunk & twist" technique used by everyone, including runner-up Sonya Thomas!)
"Chestnut is the rising star of the competitive eating circuit. He devoured 50 hot dogs at an event on May 18th and poses a serious threat to the reign of Japan's Takeru Kobayashi who is regarded as the best competitive eater in the world. (Chestnut ate 59 hot dogs the following year.)
Humor About Ballpark Franks and Hot Dogs at Ballparks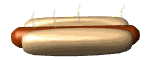 Finally, this last one is only mildly related — because it's a video and it's about hotdogs… (Adults only please, and a good sense of humor is required.)
"Hot Dogs For Homophobes" ran on national TV (Late Night with Conan O'Brien)