This post may contain affiliate links. If you buy thru these links, we may earn a commission at no additional cost to you.
---
The George Foreman name is synonymous with nutritious meals, and the George Foreman rotisseries are no exception.  
Designed to change the way that people perceive healthy eating, these appliances are boldly affirming that healthy eating no longer has to be a tasteless and time-consuming task. 
George Foreman rotisseries come in large and small varieties including:
Check out all of the comments and reviews at the links above. Most of those who've owned a George Foreman rotisserie really do like it and use it on a regular basis. Chances are it will take your food preparation to a whole new level too! 
Here are the top 5 reasons to own a George Foreman rotisserie…
#1  Makes Healthy Eating Taste Good
Imagine never having to sacrifice taste when making healthy food choices.  
The George Foreman rotisserie makes this possible through its rotating motion that allows the natural fats to drip away without making your meat dry or tough.  
By the time that you're finished cooking, you will be amazed at how much fat is left in the drip tray instead of in your meal!
#2  Simple and Easy to Use
With the George Foreman rotisserie you can make delicious-tasting meals with little effort or skill.  
Once loaded, your meal will slowly baste in its own juices, allowing it to cook on its own without any extra preparation.  
Cooking is made even simpler with the built-in 3 hour countdown timer, bell, and auto shut off features.
#3  Multi-functional Cooking Capabilities
The George Foreman rotisserie can do more than cook chicken.  
In addition to the rotisserie, it is also equipped with a roasting basket, a baking tray, 4 skewers, and a grilling basket that allows you to make an endless assortment of meals.  
For example, you can easily cook vegetables, fish, seafood, and kebabs.  It can even be used as an oven when the rotisserie motor is turned off.
#4  More Energy-Efficient
The George Foreman rotisserie is an energy-efficient alternative to using your regular household oven.  
Especially for smaller meals, you will find that it's easier (and much more cost-effective!) to use your rotisserie rather than your oven.  
It's definitely a practical way to make delicious meals for less.
#5  Easy to Clean
The George Foreman rotisserie is a breeze to clean!  
By coating the drip tray with a non-stick butter substitute like Pam, there is no need to worry about lengthy cleanups.  
Before sitting down for your meal, simply soak the drip tray and skewer in a sink of soapy water.  By the time you are finished eating, both will be ready to wipe clean.
All in all, George Foreman rotisseries are great for cooking delicious, healthy meals.  
Thanks to their versatility and simplicity, just about anyone can use one to cook a variety of different meals.  
With so much potential, you will wonder how you've gone without a George Foreman rotisserie for so long!
Best Resources About George Foreman Rotisseries  
In addition to the links provided in the article above, these are the best resources for finding more tips for using your George Foreman rotisserie: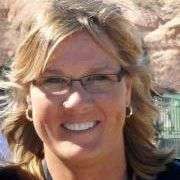 I love my kitchen… and I like to cook. But my #1 requirement is that recipes have fewer than 7 ingredients (or arrive on my doorstep via a food delivery service). My absolute favorite thing about being in the kitchen is trying out new gadgets, cookware, and storage containers! I'm SUPER organized in the kitchen (and everywhere else) and I have every gadget I could possibly need neatly and compactly tucked away until I need it. I share only the simplest recipes (which is great for people who don't like to cook), along with time-saving food tips and cooking tricks (that will save you time and money). When I'm not cooking, cleaning, or organizing my kitchen… you can find me at the corner of Good News & Fun Times as publisher of The Fun Times Guide (32 fun & helpful websites).