This post may contain affiliate links. If you buy thru these links, we may earn a commission at no additional cost to you.
---
Certainly you've heard it…
That 'wiggle song" that plays every time a Jello commercial airs on TV.
Here are the words:
You need an invite to the soiree.
You need a tu-tu to do ballet.
You need Latin to to seize the day.
But anyone can wiggle.

You need a license to drive a car.
You need lessons to play guitar.
You need a permit to do just about anything.
But anyone at anytime can wiggle.

Wiggle while your wrigglin' free. Gonna giggle.
While you jiggle in a wigglin' spree. Wiggle
Wiggle if your wrigglin' free. Gonna giggle.
While you jiggle in a wrigglin' spree. Wiggle."
Jello Commercial Dancers
What I want to know is: Where are the dancers???
(You know, those slim-figured multi-talented contortionists who appear at the end of each Jello commercial.)
I've tried — unsuccessfully — to find a video which shows the Jello dancers in action.
They can place their bodies in such a wide range of shapes and positions.
And they do it so effortlessly.
I happened to see those same dancers on the Ellen show not long ago. But I can't seem to locate any video for that either.
And the Jello dancers were even part of the 2007 Academy Awards, I believe. (Which probably explains how Ellen got them to be on her show, since she hosted the Oscars this year.)
But, for some reason, no one's really talking about the multi-talented Jello dancers.
What's up with that? I, for one, would like to see more from them and I'd be interested in learning a bit more about the dancers themselves.
Guess I'm the only one…
Fun With Jell-O
A classic Alvin and the Chipmunks commercial for Jell-O…
Fun Jello Recipes
Make an incredible Jello Aquarium…
Ingredients:
4 boxes of blue raspberry Jell-O or other blue-colored flavor
Blue M&M's
Assorted gummi sharks and fish candies
Directions:
1. Combine hot and cold water and Jell-O mix according to package directions.
2. Spray a mold or plastic bowl with vegetable shortening (for easy removal). Pour liquid Jell-O into mold.
3. Chill for 20 to 30 minutes. Press gummy sharks and fish and blue M&M's into the Jell-O.
4. Return the Jell-O to the refrigerator. Chill for 3 to 4 hours.
Source
Did you know you can make bubbles from Jello?…
Ingredients:
1 part dish washing detergent
1 part gelatin powder, any flavor/color
8 to 10 parts warm water
Directions:
Mix all gently as making suds will weaken the mixture.
Source
You can't talk about fun Jell-O recipes without including Jello shots…
Have You Seen The Human Slinky Yet?…
UPDATE:
 I think I've solved the riddle!…
I recently saw a TV commercial, and then a print ad for the Hyundai Santa Fe. Each had the tagline: "…for whatever shape life takes." At the bottom of the ad it said "featuring Pilobolus". A quick search in Google landed me here where I learned that Pilobolus is "a major American dance company of international influence." (Their homepage currently shows the Pilobolus Hyundai commercial.)
It gets better…
A video search for Pilobolus brought me full circle and helped to clarify the relationship these amazing dancers have with Ellen DeGeneres (as I alluded to above). Here's a video from the Academy Awards Show that Ellen hosted… and yep, they were featured on the show. Here they are performing a unique tribute to the movie, Happy Feet.
a theatrical take on shadow puppets ( Pilobolus )
In case you're interested…
There's another talented dance group called Momix that is currently being featured in Hanes commercials.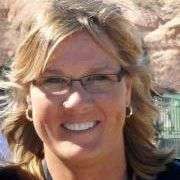 I love my kitchen… and I like to cook. But my #1 requirement is that recipes have fewer than 7 ingredients (or arrive on my doorstep via a food delivery service). My absolute favorite thing about being in the kitchen is trying out new gadgets, cookware, and storage containers! I'm SUPER organized in the kitchen (and everywhere else) and I have every gadget I could possibly need neatly and compactly tucked away until I need it. I share only the simplest recipes (which is great for people who don't like to cook), along with time-saving food tips and cooking tricks (that will save you time and money). When I'm not cooking, cleaning, or organizing my kitchen… you can find me at the corner of Good News & Fun Times as publisher of The Fun Times Guide (32 fun & helpful websites).