This post may contain affiliate links. If you buy thru these links, we may earn a commission at no additional cost to you.
---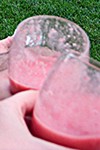 We drink a lot of smoothies. (I've posted my popular Strawberry Smoothie recipe here before.) And after Mike's recent visit when he re-introduced us to Strawberry Daiquiris and martinis during our little "party on the porch", we realized that our old Oster blender was shot.
So, I set out to find a new Blender.
If you're like me, you probably find it ridiculous to pay more than $20 for something that simply crunches ice (oh okay, and a few other things…) but take it from me, if ice-crunching is your aim, then a Blender is your game!
Do you know what to look for in a Blender? What about the differences between a Blender and a Food Processor? Which are the BEST Blenders? Where can you find reviews on Blenders?
What Should You Look For In A Blender?
Against my better judgment, I tried to "settle" for a lesser-named Blender from the local department store. I picked up a Hamilton Beach Stay or Go Blender. But the results were dismal, so I returned it.
At which point I'm thinking:
"C'mon, Blenders are Blenders, right?… Well if not, then what should I be looking for that sets one Blender apart from the rest?"
Here's what my research told me…
a glass pitcher (plastic retains smells and scratches easily)
a large pitcher (that holds at least 40 ounces)
a tight-fitting lid (so liquids won't go spewing across the room)
a weighted base that securely locks in place (so the pitcher can't work itself loose from the base during operation)
removable stainless-steel blades (for easy cleaning)
a pulse mode (for optimal control)
at least 350 watts of power (though more does not necessarily mean better)
Then, somewhere along the line, I read about others who were using Food Processors to do their blending tasks, as well. (Mostly mothers pureeing adult foods for babies or making homemade baby food.) These folks seemed to enjoy the all-in-one convenience of their Food Processors.
Must Read: Blender Watts vs Horsepower
Food Processors vs Blenders
Truthfully, I've always been confused about the differences between the two machines.
So I changed my focus a bit, and thought:
"Maybe it's not a BLENDER I need after all!… A FOOD PROCESSOR will do everything I need and more."
Wrong!
Further research reveals that Blenders are best when working with liquids and Food Processors are best when working with solids. Period. While the Food Processor can, in fact, handle most blending tasks, it should only be relied upon to provide quality ice crunching and liquefying IN A PINCH.
The biggest reason for this seems to be the fact that there is no seal between the bowl and the base, so the moment you press the ON button, liquids start seeping out the bottom. "Leaking" was, by far, the most common disappointment with using a Food Processor as a Blender. That, and the fact that the lids rarely lock on tight, resulting in liquids flying about the room on several occasions!
Thus, I have concluded that Blenders do "blendering" things best and Food Processors do "processering" things best, and the two shall not be confused ever again in my mind.
Okay, So WHICH Cuisinart?…
At first, I was torn between the stand-alone Cuisinart SmartPower 18-Speed Blender with a slightly more powerful motor (600 watts) and larger glass jar (50oz.) -vs- the combo Cuisinart SmartPower Duet Blender & Food Processor (which, together, could do everything I could ever need… and more).
After I compared them side-by-side in the store, I decided to go with the combo Cuisinart SmartPower Blender & Food Processor duo.
Primarily, because I felt that I was getting the Food Processor for FREE. But also because I had read a few good reviews about it. (Plus, I had done all this research about all the great things you can do with Blenders and all the great things you can do with Food Processors, so now I could justify the reasons that I needed one of each!)
How The Cuisinart Blender Itself Performs
Since I had read that "more wattage isn't necessarily better", I felt comfortable with the 500 watts (only in my store? not what the online ads state for this model) we'd be getting with the duo (which was STILL more than I'd had with either of my Blenders before).
Surprisingly, the size of the glass jar (40 oz.) didn't bother me like I thought it should… because we usually only make one smoothie at a time anyway — since we both enjoy different "concoctions". Truthfully, after using the Blender a few times, the size of the jar doesn't seem small at all. You could make 2 tall smoothies in there at once, and I'm actually glad that I don't have the larger version taking up more space on my countertop.
I put the Blender through its paces with the toughest challenge first: ICE! Lo and behold, it crunched it up like no other Blender I have ever used. While I'd certainly rather have a Vitamix blender — the mac daddy of all ice crunchers (at a pricetag of $400 mind you!) — I am thrilled to have this powerful Cuisinart turning cubes into slushy beverages for me.
Other Blenders I've Tried
Other Blenders That Came Highly Recommended
The Blender I Chose To Buy (More Reviews)
I don't know how or why, but the Cuisinart SmartPower Duet Blender/Food Processor that I have happens to have more wattage (500 watts) than the Cuisinart duets shown online (350 watts).
What others say about the Cuisinart SmartPower Duet Blender/Food Processor:
…And you thought this was going to be the end!
2 Bonus Tips Regarding Food Processors & Blenders
For Blenders: Purchase the optional blender tamper / stir stick! I found them readily available at places like Kmart and Target and cost about $10. Seems pricey, but it rests perfectly on top of the Blender lid and makes it a cinch to keep everything mixing properly inside the pitcher.
For Food Processors: Make sure the blades are LOW! You see, a food processor will always leave small chunks of unchopped items, so the lower to the bottom of the bowl that the blades are, the more gets chopped.
Must Read: Vitamix vs Blendtec vs HealthMaster vs Ninja Blender Reviews
UPDATE #1: Ice!
Despite the fact that the box from my Cuisinart with a "powerful 500-watt motor" states:

"Handles tough jobs like crushing ice, and delicate jobs like mincing parsley or chives."
and…

"Crushing Ice: Add up to 10 large ice cubes to blender jar."
…I've learned that you're better off if you use ice chips or crushed ice, rather than whole ice cubes (even the thin, long kind from your refrigerator's ice dispenser) in a blender.
After stripping the screw that keeps the rotating blades in place at the bottom of the jar in 2 new Cuisinart blenders during the "ice crushing process", I've decided the ice CUBES were to blame, and I will always use ice chips instead from now on.
For the record, the Cuisinart owner's manual says this:

"The motor is strong enough to handle all blending tasks, including crushing ice without liquid."
and…

"One speed is just for crushing ice, though ice can be crushed perfectly at any of the settings."
Since I always add a dab of liquid (either orange juice or water, when making smoothies), I think it was the whole ice cubes that were wreaking havoc on this otherwise amazing blender!
So, even after blasting through two (2) different Cuisinart SmartPower Duet Blenders in just over 30 days, I'm now on my 3rd Cuisinart, and I still love this brand. I know, it sounds strange. But that's just how good it is overall.
UPDATE #2: Another New Blender
After many good years with my Cuisinart blender, I eventually gave it to a young couple with a new baby. They were in need of a blender/food processor to make baby food. Since my Cuisinart had both (and I was excited to explore today's newest blenders anyway), I happily gave it to them.
Which blender did I get in its place?
Well, I wanted a Vitamix. (Who doesn't?)
But I settled on a Ninja blender. I really like it!
After studying several of them, I decided to get the Ninja Master Prep blender. I mostly wanted a blender that was powerful enough to crush ice consistently. The Ninja does it! The 2-tiered blades really help with that.
I also like how simple the Ninja blender is to use… and clean! There are no rubber rings or screw-on blades. The blades just "rest" in the center of the jar, then they lock into place once the lid is attached. Seriously. It's super easy to use. Just press down on the big silver button on the very top of the unit and pulse as needed. It seems so much more ergonomic. It just makes sense.
Finally, since the only parts to this blender are the jar, the blade core, and the lid (no tamper, because you don't need one), it's a breeze to rinse out and wipe down after each use.
I can't say enough about my Ninja blender. Highly recommend it.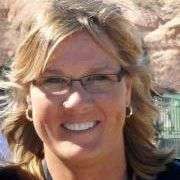 I love my kitchen… and I like to cook. But my #1 requirement is that recipes have fewer than 7 ingredients (or arrive on my doorstep via a food delivery service). My absolute favorite thing about being in the kitchen is trying out new gadgets, cookware, and storage containers! I'm SUPER organized in the kitchen (and everywhere else) and I have every gadget I could possibly need neatly and compactly tucked away until I need it. I share only the simplest recipes (which is great for people who don't like to cook), along with time-saving food tips and cooking tricks (that will save you time and money). When I'm not cooking, cleaning, or organizing my kitchen… you can find me at the corner of Good News & Fun Times as publisher of The Fun Times Guide (32 fun & helpful websites).