This post may contain affiliate links. If you buy thru these links, we may earn a commission at no additional cost to you.
---
You could say I've been around the block a time or two when it comes to glass and plastic food storage containers!
Who hasn't, right?
I've gone from freebie plastic leftover containers to nice glass food storage containers with so-so lids, to nice plastic containers with air-tight lids, and — finally — to my all-time favorite glass food storage containers with air-tight lids.
See why I like these Snapware Glasslock bowls by Pyrex for food storage the best.
Plus…
The features you should always look for when buying food storage containers.
My tips for keeping glass and plastic containers organized in your cabinets, pantry, and refrigerator.
Why you should always buy square or rectangular shape containers, instead of round.
My tips for cleaning plastic food storage containers.
The Food Storage Bowls In My Kitchen
#1 – First, The Free Plastic Ones
Okay, so who hasn't started their supply of food storage bowls with empty butter containers, Cool Whip containers, and just about any other empty plastic bowl that food came in?
The ones I have the most of are these reusable plastic Glad storage bowls!
I buy deli turkey and cold cuts like this all the time — and they come in Glad containers. Some pet food comes in those containers, too.
Once I realized I was accumulating so many of these decent quality plastic bowls and lids, I ditched all of my mismatched plastic bowls!
#2 – Then, My First Glass Set
As far as glass food storage containers go, these Pyrex glass bowls were a nice starting place for me.
I bought a round set and a rectangular set. This was back in 2008 — and I didn't know the difference between buying round vs. rectangular/square containers. (More on that in a minute!)
I still use these Pyrex containers ALL the time. I especially like their large size, and the fact that they're made of very thick glass. And, well, they're Pyrex!
But the lids definitely aren't air-tight (despite that nifty little "air removal" feature on top). So I can't store anything more than a day or so in them. Turns out that little vent in the lid is not to remove air before storing food in them — it's to allow steam to escape when you're using them in the microwave!
I ended up adding another type of Pyrex glass bowl set to my collection: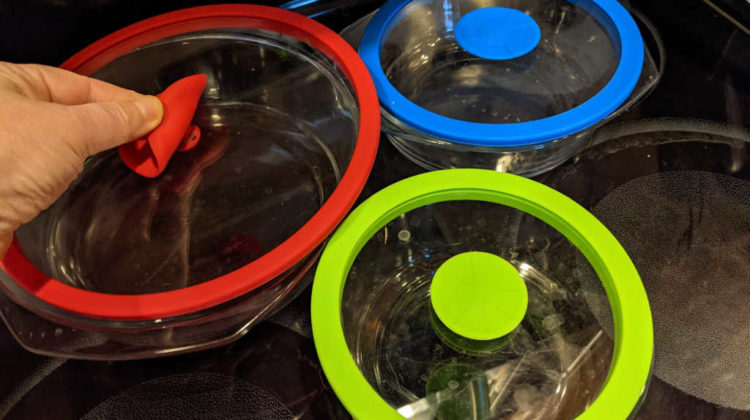 The lids on this set of Pyrex glass containers ARE air-tight, but the bowls themselves are really thin glass. I'm always afraid if I bump them just right, they will shatter.
I honestly don't know why I can't find an example of them anywhere online to show you — because the lids are unique with a suction feature that really works! It's just that the bowls themselves are too thin. (Plus the fact that only came in a round shape — a big downside that I'll get to, I promise.)
Anyhoo… after using my many Pyrex glass bowls for years to store leftovers in, I thought I was content with my food storage container situation.
#3 – Next, Better Plastics
Then I discovered Lock & Lock plastic food storage containers, and I bought one in every size and shape!  
I love the air-tight lids!
Lock & Lock was one of the first companies to come out with lids that have:
4 strong clamps (one on each side of the lid) — to securely "lock" the lid in place.
AND
1 silicone ring inside the lid — to tightly seal the gap between the lid itself and the rim of the container.
Together, those features make Lock & Lock containers 100% airtight!
Plus, one of their big selling features is the fact that you can literally drop a closed Lock & Lock container on the floor (hard!) and it will not break. Nor will the lid pop off or become loose in any way. Nor will it leak… ever!
I quickly turned my mother-in-law and other friends on to them. And I'm happy to report that they like them as much as I do.
However, since they're plastic, I don't keep many fresh-cooked foods in them — because:
Plastic is porous, and it tends to stain from greasy and/or colorful foods.
I hand wash anything made of plastic (because the dishwasher tends to make plastic look "pitted" and become brittle over time) — and the less hand-washing I have to do, the better.
Over time, plastic containers begin to look scratched and cloudy — even when they're perfectly clean. (ALL plasticware does this — especially if you use it a lot.)
So the types of things I store in my Lock & Lock plastic containers these days are items that will be in there awhile — like dog snacks, chips, cereals, crackers, cookies, and other shelf-stable pantry items.
Which left me still using the 2 sets of glass Pyrex bowls for fresh foods and leftovers — but not loving my experience with them.
#4 – Then, Better Glass Ones
So when I heard about glass Lock & Lock bowls with the same airtight lids that the plastic Lock & Lock containers have, I wanted some so badly!
They're hard to find and kind of expensive, so I always keep my eye out for sales.
These are the first glass Lock & Lock containers I purchased. Love em.
But my all-time favorite is a large glass Lock & Lock rectangular container with a handle — similar to this one. I like it because:
It's HUGE — big enough to hold all of my smaller rectangle-shape bowls inside!
The lid is super sturdy — a perfect match for this fairly heavy bowl.
The lid has a handle (not just for picnics and potlucks) — I always use the handle when moving the bowl from the counter to the fridge, etc.
It's airtight — just like the plastic Lock & Lock containers and the smaller glass ones are.
The company exerts its best efforts to expand its main products from plastic airtight containers to comprehensive kitchenware using diverse raw materials including glass, porcelain, and stainless steel. To be a global company producing various and functional kitchenware, Lock&Lock maintains its competitive edge in the field by manufacturing containers using environment-friendly materials considering the health of customers and environment. ~Lock&Lock
#5 – Finally, The Best Glass Ones
One day, when I was shopping at Costco, I saw this set of Pyrex Snapware Glasslock food storage containers.
They have the same stay-tight lids as the Lock & Lock (with the silicone ring to keep the contents fresher longer).
And the best part: they're MUCH more affordable!
Initially, I didn't buy them — because I've closely examined the plastic Snapware food storage containers before, and they always seemed to be a little "cheaper" quality than the plastic Lock & Lock containers that I own. (Especially the lids!) So I wasn't willing to risk it just yet.
By the way, I think it only makes sense that Pyrex — a company that built its reputation on making quality glass bakeware — would be better at making glass containers instead of plastic ones anyway!
A few months later when I was in Costco again, I bought that set of Snapware glass food storage containers — and I'm so glad I did.
I absolutely love them!
The lids are not made cheaply like the Snapware plastic food storage container lids are! The quality of the plastic lids on Snapware's glass containers is MUCH better. They're high-quality — just like the Lock & Lock lids — with that little silicone seal in there. That silicone ring stays put (locking in freshness).
Nothing about the glass Snapware lids appears cheap or flimsy in any way. Oh, and that silicone ring doesn't stain either!
And I don't have to "baby" the Snapware glass containers either. They are built to last — it's not a thin glass.
I like my glass Snapware food storage containers so much, I'm thinking of buying a second set — even though I really don't need that many bowls in my kitchen. However, they are nestable — so that helps to minimize the amount of space they take up inside the cabinets!
By the way, this particular set of glass Snapware with locking lids is oven safe, whereas earlier versions were not.
And they are made in the U.S.A.
Color Matters
To be honest, I've never thought about the color of the lids making a difference.
But my Snapware glass containers came with light green lids (similar to a mint green), and every time I open the refrigerator now I smile inside when I see them.
The green subliminally makes you think of "fresh" and "healthy".
So now the inside of my refrigerator always looks neat, organized, and healthy when I open it!
But, if you don't care for green in your kitchen and would prefer to have a set of mostly clear glass Snapware food storage bowls (with only a "hint" of color), they have that too!
Oh, and one other thing…
Shape Matters
I'm kind of picky when it comes to the shape of my food storage containers.
Here's why…
After I bought my first set of Pyrex glass bowls (I got some that are rectangular and some that are round), I learned how important it is to do these 2 things:
Try to stick to all one shape of containers — either mostly squareish or mostly roundish. They don't have to all be identical in shape, just similar, so they'll all stack nicely together, nested one inside the other.
Choose square instead of round containers whenever possible — because square containers utilize the space in your cabinets, pantry, and refrigerator more efficiently than round ones do! (Round containers leave unusable "gaps" when stored side-by-side — since you literally cannot bump them right up next to each other.)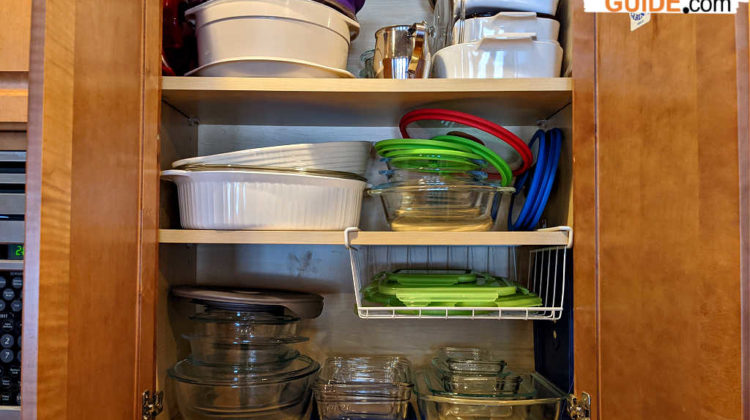 How Do You Organize Your Lids?…
I put these under-shelf baskets everywhere in my house that they will "fit" — wherever items aren't stacked too high on one side.
I have them in my pantry — to hold sauce packets, tortilla shells, and loaves of bread.
I have them in the dog treat cabinet — to hold Kong toys for my 2 dogs.
I have them in my laundry room — to hold dryer sheets and socks that lose their match.
I have them in my bathroom — to hold random stuff under the vanity.
And of course I have them in my kitchen cabinets — where I use them to hold all of the lids for my food storage containers!
They make them in lots of sizes, heights, widths, and colors. They even make them stackable — if you happen to have that much space. (I don't.)
I've also considered something like this bamboo lid organizer.
I like the adjustable "sections" and how nice it looks. And I actually have the space for this in my kitchen… but the under-shelf baskets tuck out of the way real nicely.
2 Tips For Washing Plastic Bowls & Lids
For what it's worth…
#1 – I never put the plastic lids that come with glass containers in the microwave (even if it clearly states that they're microwave safe).
For example, Lock & Lock says that the lids are safe to use in the microwave as long as you place the lid upside down on the bowl (so the silicone ring is facing the top of the microwave). But I don't want to take the chance of shrinking any of my plastic lids or harming the silicone in any way — over time.
#2 – I also don't put any of my plastic containers or lids in the dishwasher. I don't want the extreme heat from the dishwasher warping the lids, harming the silicone rings, or shortening their life in any way.
By not putting plastic bowls and lids in the microwave or dishwasher, I'm also eliminating any possibility that BPA could potentially leach from the plastics when heated (even though most of my bowls — like the Snapware Glasslock and the Lock & Lock plastic containers — are BPA-free).
The Future Of Food Storage In My Home
For me, it's more about the technology than the brand, as far as food storage containers are concerned.
While I like Snapware glass food storage containers a lot and I like Lock & Lock glass bowls too, I'm not really married to one brand. I care much more about the features and the overall quality.
Besides, lots of other reputable companies that make food storage containers are likely to come out with similar and/or better glass bowls in the future. For example, Rubbermaid glass food storage containers look very nice, but I'm just not sure I like their lids right now.
These things are the most important to me and will affect my decision to buy food storage bowls from this point forward:
They must be glass — I have enough Lock & Lock plastic containers that still look nice and will grow old with me. Anything new that I purchase will be glass from here on.
They must be see-through — So I can see, at a glance, what's inside at all times. (Out of sight, out of mind in my pantry and in my refrigerator!) Therefore, clear glass, as opposed to colored glass.
They must be safe and multi-purpose — BPA-free, shatterproof, and usable in a variety of settings: freezer safe, microwave safe, dishwasher safe, and oven safe.
They must be nestable — Usually, this means that the bottoms are slightly graduated so that one bowl will fit inside another bowl from the same set. However, most of your square bowls should fit within your other square bowls. Likewise, most of your round bowls should fit within your other round bowls.
Ideally, they will be square — Since most of my glass bowls are squarish at this point, more square bowls will complement what I already have. However, high-quality round bowls are not out of the question (…if I see them at a really good price!)
Ideally, they will have the 4-sided lid locks — To date, I've found this to be the best type of lid to keep food fresh, since all 4 sides of the bowl are firmly clamped down at all times. The good part: even round bowls can have this type of lid.
Ideally, they will have the silicone ring inside the lid — This, along with the 4 strong clamps on each side of the lid, is what makes the bowls truly air-tight.
Ideally, they will have green lids — When given the choice, I will always choose light green when I buy items for my kitchen from now on. (I like red too, but light green just screams "fresh" to me.)
Have you made the switch from plastic to glass containers yet? Here's why you should.
See all of my other favorite kitchen gadgets!
Like this post?

Save it

to read again later… or share with others on Pinterest!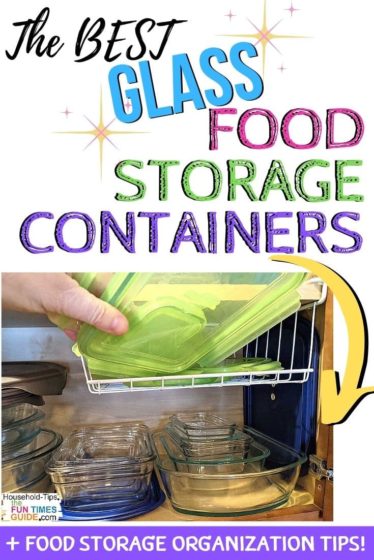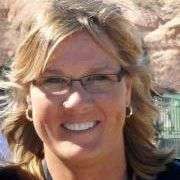 I love my kitchen… and I like to cook. But my #1 requirement is that recipes have fewer than 7 ingredients (or arrive on my doorstep via a food delivery service). My absolute favorite thing about being in the kitchen is trying out new gadgets, cookware, and storage containers! I'm SUPER organized in the kitchen (and everywhere else) and I have every gadget I could possibly need neatly and compactly tucked away until I need it. I share only the simplest recipes (which is great for people who don't like to cook), along with time-saving food tips and cooking tricks (that will save you time and money). When I'm not cooking, cleaning, or organizing my kitchen… you can find me at the corner of Good News & Fun Times as publisher of The Fun Times Guide (32 fun & helpful websites).