This post may contain affiliate links. If you buy thru these links, we may earn a commission at no additional cost to you.
---
I just discovered that you can buy Tupperware products online!
How cool is that?!
You no longer have to go to a Tupperware Party to see the latest & greatest Tupperware containers. Yay. Instead, you can find Tupperware products online now.
Here are my all-time favorite Tupperware products…
Tupperware Products I Own
Truth is, I haven't ever been a huge purchaser of Tupperware products.
I mean, I'm really not that loyal to any one brand …of anything.
That said, I have purchased my fair share of Tupperware items. Because when I find something I like, I tend to buy it (often in multiple colors, shapes & sizes).
Here are my all-time favorite in the world of Tupperware:

Oval See-Thru Containers – Great for dry pourable foods. I have the smallest size. I use them for toting snacks to work and saving small leftovers.

Snack Cups – Perfect for bite-size snacks or single servings… for taking along in your purse, or storing leftovers.

Cereal Storer – For the longest time, I used to remove the cereal (in its waxed-paper liner) and then throw away the cardboard cereal box. THEN, I discovered these cereal storers! They hold a lot of cereal (we usually buy the larger sized boxes of cereal from Costco), and they're see-thru, so you can always see just how much cereal is left.

Forget Me Not Containers – These are great for storing the remaining half of an onion, half of a tomato, or any other partially used fruit or vegetable. They take up virtually no space, since they "hang" from the racks in your refrigerator.

Season-Serve Container – This is supposed to be for marinading meats and vegetables (thanks to the unique "grills" built-into the container), but I use it for storing everything from fresh-baked cookies to breads and chips. It's a great size — in between "large" and "small", yet deep enough to hold several layers.

Serving Center Set – The perfect veggie tray container! It separates and organizes all of your stuff: vegetables & tip, taco & nacho fillings, condiments for cookouts and more.

Shape-O Toy – Okay, so I was a
kid when I owned this one, but who doesn't have fond memories of this one-of-a-kind toy? I actually didn't know until recently that this toy came from Tupperware!
Tupperware Products I Would Love To Have

CrystalWave Soup Mug – A mug that works like a bowl and can go from fridge to lunchbox to microwave to table. It's great for eating soups, oatmeal, and instant noodles at work.

Spaghetti Dispenser – This see-thru container has a special insert which allows for easy pouring and measuring of spaghetti noodles. It's great for breadsticks too.
Rock 'n Serve Mug – A great way to cook & serve single-size portions of soup, stew, pasta, or even hot chocolate — especially at work. I like that it's got a big handle, can go from freezer to microwave to table, the unbreakable & stain-resistant plastic lasts a lifetime, and the vent on the lid "rocks" open, allowing steam to escape in the microwave — so no more messy microwave splatters.

FridgeSmart Containers – I've seen these demonstrated on QVC & they look really practical! They make your fruits and vegetables last longer in the refrigerator. How? The built-in grid keeps food higher than the condensation which builds up. And the unique venting system lets you regulate the airflow within the container — because fruits & veggies have different airflow needs when stored in the fridge.
Tupperware went above & beyond on this one too… Each container has a permanent storage/venting chart molded into the side, so you always know the best vent settings for your favorite fruits and vegetables. Check it out here.

Insulated Tumbler with Drip-less Straw Seal – This would be great for our fresh-made smoothies! It's large (24oz), and its double-walled design keeps beverages cold for hours. The "drip-less straw seal" (aka lid) minimizes leakage even when tipped (with the straw in it!) — which prevent messy spills.

Stuffables Storage Containers – These bowls are award-winning (…or maybe it's the lids which are award-winning). The lids "expand" allowing you to stuff more inside. Think "expandable luggage"… similar concept.

Easy-Lift Cutting Board – Not only is this cutting board uniquely designed… it's also BLACK, so it would go nicely in a modern kitchen AND it hides the nicks and cuts into the board's surface better than white and wooden cutting boards do. Plus, it's got non-skid feet on the bottom, so it won't slip away while you're cutting. And the built-in indented trough catches peels, seeds, and juices — keeping your chopping surface and your counter clean.
Lid Organizer: The Place For Seals – (Tupperware call its lids "seals".) Isn't the process of storing lids to all your plastic bowls a headache?… (I currently store all mine on their sides inside the largest size plastic bowl I own.) This handy little contraption makes it a cinch to keep all your Tupperware lids in one place — neat & tidy.
Tupperware has added a bunch more cool products to their line-up. Here are my top picks from Tupperware's newest stuff.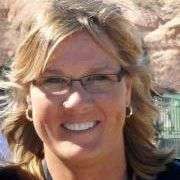 I love my kitchen… and I like to cook. But my #1 requirement is that recipes have fewer than 7 ingredients (or arrive on my doorstep via a food delivery service). My absolute favorite thing about being in the kitchen is trying out new gadgets, cookware, and storage containers! I'm SUPER organized in the kitchen (and everywhere else) and I have every gadget I could possibly need neatly and compactly tucked away until I need it. I share only the simplest recipes (which is great for people who don't like to cook), along with time-saving food tips and cooking tricks (that will save you time and money). When I'm not cooking, cleaning, or organizing my kitchen… you can find me at the corner of Good News & Fun Times as publisher of The Fun Times Guide (32 fun & helpful websites).