This post may contain affiliate links. If you buy thru these links, we may earn a commission at no additional cost to you.
---
The Jack Daniel's Distillery in Lynchburg, Tennessee is close enough to Nashville that we take a road trip out there once a year or so.
It's also a fun thing to do with guests whenever they're in town visiting us. The best part: It's FREE!
Here are the highlights of our February 27th Jack Daniel's tour with Jim's parents.
The tour itself lasts about 2 hours. You traverse approximately 9 acres (by foot) going in and out of buildings and warehouses — with 18 different stops along the way.
Stop #1 is the Rickyard where they make their own charcoal for the "mellowing process" by burning uniquely stacked wood, after igniting it with a splash of 135-proof whiskey.
Then, you walk by the limestone Cave Spring that's so cool, pure, and iron-free that it's ONLY used for making Jack Daniel's whiskey. In fact, the source of the spring itself remains unknown to this day. It's magical!
Next, you visit Mr. Jack Daniel's personal office. (It's the only "original" building that remains on the property.) There, you get to see the rusty old safe — the actual safe that led to his death.
That safe wouldn't open one morning, so out of frustration Mr. Jack kicked it. That led to a nasty foot infection that went untreated and eventually killed him!
Here's the explanation that appeared in the bulletin at his funeral:
Here's a closeup of the actual safe that kicked Mr. Jack Dianel's butt:
Believe it or not, Lynchburg is a "dry county", so the closest you get to actually "sampling" some whiskey is the part of the tour where you learn about the fermentation process. (Unless you count the all-u-can-drink "Lynchburg Lemonade" that you get at the very end of the tour!)
First, the distillation process combines corn, rye and barley, along with Cave Spring water to create what's known as "mash".
Then, it's actually called "sour mash" as the whiskey is left to bubble and age gracefully. The sensory result: There's some very smelly fermentating going on here!
Next on the tour, you get to witness the "mellowing process" as the 135-proof whiskey ever-so-slowly drips through 10 feet of charcoal.
The tour guide invites you to stand up close to the tank while he briskly opens and closes the lid. You are encouraged to breathe deeply — inhaling the vapors in through your nose — then quickly open up your mouth — at which point you can actually taste the richness of the whiskey! It's so strong, you can't help but cough from the pungent smell and the taste.
Finally, you see the barrel-filling process and the storage warehouse for all those barrels of Jack Daniel's whiskey.
My favorite part of the trip was when Elouise suggested that we photograph the similarities between the "mellowing process" and "aging gracefully".
Toward the end of the tour, you visit a building where the Silver Barrel (high dollar, premium whiskey) is displayed.
Here, you'll notice approximately 240 bottles (give or take a bottle — notice the missing one?) of Silver Barrel Tennessee Whiskey. This depicts the number of bottles of whiskey that one barrel yields.
Along the next wall are the names of every individual and corporation that has ever purchased a high-dollar shipment of Silver Barrel Tennessee Whiskey. This is Jack Daniel's top-of-the-line whiskey that is specially-packaged JUST for you for a mere $8,000 – $10,000. Wanna add your name to the list?
If you liked that, then you'll love this…
Jack Daniel's Old No. 7 Whiskey Barrel House. This is the barrel house where they make Old No. 7 whiskey at the Jack Daniel's Distillery in Lynchburg, Tennessee.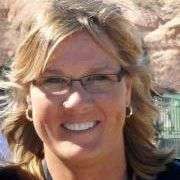 I love my kitchen… and I like to cook. But my #1 requirement is that recipes have fewer than 7 ingredients (or arrive on my doorstep via a food delivery service). My absolute favorite thing about being in the kitchen is trying out new gadgets, cookware, and storage containers! I'm SUPER organized in the kitchen (and everywhere else) and I have every gadget I could possibly need neatly and compactly tucked away until I need it. I share only the simplest recipes (which is great for people who don't like to cook), along with time-saving food tips and cooking tricks (that will save you time and money). When I'm not cooking, cleaning, or organizing my kitchen… you can find me at the corner of Good News & Fun Times as publisher of The Fun Times Guide (32 fun & helpful websites).